From The Heart - Celtic Reflections
'Do Not Go Gentle Into That Good Night'
Dylan Thomas, 1951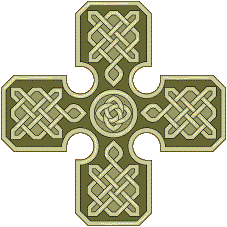 Version 1.2 for MIDIWORLD
Copyright - April 1999 by Alan Thomas
Composed and sequenced by Alan Thomas
Magic MIDI Music Co.(UK)
---
History:
Celtic Reflections is a set of original compositions in the Celtic idiom.
They are sequenced for the Roland Sound Canvas SC-88. They are also available on MiniDisc.
From The Heart was written for a dear friend who recently lost her fight against Cancer.
It is not a Lament; it simply reflects her warmth and affectionate personality, which
remained until the end and will forever be sadly missed.
---
Instrumentation:
Celtic:

Piano, Guitar

More information about the instruments of Celtic music can be found at Ceolas

Orchestral:

Clarinet (1), Oboe (1), String Ensemble, Contrabass (1),


Synth Pad:

Atmosphere
---
Profile:
The piece has two contrasting melodies connected by a simple 8-bar bridge. It begins with Melody 1 being introduced on Clarinet to an open Guitar accompaniment. The bridge then introduces Melody 2 on Oboe to a much richer String and Guitar accompaniment. Melody 1 is then featured as an Interlude on solo Piano. The bridge then introduces repeats of both Melody 2 on Oboe and Melody 1 on Clarinet. The piece finishes with the bridge itself being briefly developed and then suddenly ended on solo Piano. Sadly, the final delayed and sustained piano octaves speak for themselves.
---
Performance Notes:
Realtime MIDI Input: Fatar Studio 900
Sequencer: Cakewalk Professional 3.01
Sound Module: Roland Sound Canvas - SC88
GM/GS patch sounds vary greatly, even from Roland, so to hear the piece as intended please read the following:
A blend of SC55 and SC88 patches has been used to achieve the desired performance.
If you are a Roland SC88 user the required patch map will be setup automatically for you. Default 'Mode 1' is used.
SC55 and SC55mkII users should use the 'Capital Tones' patch set to achieve a similar result.
---
Technical Notes:
The sequence is GM/GS compatible. Sysex messages are limited to a GS Reset at the start and end of the sequence otherwise it uses a default GS setup for maximum portability. If you have any unsaved special setups please beware!
You should enable MIDI Channels 1 through to 10 to your MIDI port.
---
Performing Rights:
Strictly for personal use only please.
---
Feedback:
If you would like to comment on this work, or its presentation, contact me at the e-mail address below. Constructive criticism is always appreciated.