Andromeda 16 Voice Real Analog Synthesizer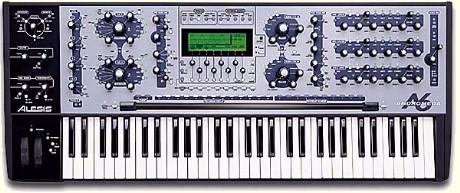 Demo Video
by
Harmony Central
(RealPlayer 7.0 or better required to view the video clip)
---
The Ultimate Polyphonic Analog Synth
In a world filled with "almost-analog" and "sort-of-analog" synthesizers, Andromeda is the real deal: a high-performance instrument fueled by true analog synth technology. In a single, powerful package you'll find a huge range of tonal possibilities: searing leads, warm pads, fat bass lines, extreme sound effects and more. With Andromeda you can get all these sounds simultaneously, while enjoying the creative control to reach out, grab knobs and instantly reshape Andromeda's mind-blowing sonics.
Real Analog Powerhouse
Andromeda's fully analog signal path is controlled by a high-speed Motorola Coldfire™ microprocessor, offering 16-voice polyphony with 16-part multitimbral capability. Andromeda features two analog oscillators per voice, with standard waveforms (available simultaneously), suboscillators, hard and soft sync, and more. It provides two analog filters per voice: these 2-pole (multimode) and 4-pole (lowpass) resonating filters are classically-derived designs, and offer you an astounding range of sonic variability.
Andromeda also provides external audio inputs that allow you to route any signal through its filters. Andromeda has three LFOs, each with six waveforms and many powerful features. It also has three 7-stage, 3-level envelopes capable of functions never before found in any analog synthesizer. An extensive mod matrix offers you enormous freedom in configuring Andromeda's sonic firepower, adding to its monstrous capabilities.
In-Depth Control of Your Sound
Andromeda's 61-note synth-weighted keypad features velocity and aftertouch sensitivity, and its ribbon controller offers multiple, assignable functions. A distinctive, futuristic front panel features 72 knobs and 144 buttons (the majority are single function), optimally arranged for rapid-fire tweaking and in-depth experimentation. Andromeda's large, backlit LCD display provides real-world values of parameters (time, frequency, BPM, etc.) and high-resolution graphics. No other synth has ever offered such a sophisticated, informative control panel for creating analog pyrotechnics.
Extensive Features
In addition to its real analog synth engine and hands-on interface, Andromeda provides a wide range of performance features, including multiple keyboard modes, portamento with nine slopes, and legato functions. For added grins, Andromeda provides a built-in arpeggiator and analog-style sequencer with MIDI sync, high quality digital effects (reverb, chorus, echo and more), and a nasty little analog distortion circuit. Internal program memory features 256 preset and 128 user-defined programs. Andromeda also offers a PCMCIA-format memory card slot for additional programs and mixes.
A Pedal-To-The-Metal Creative Tool
Be warned: Andromeda is not for the faint-of-heart, and its beefy sound is highly addictive. But if you seek pure analog bliss, you'll find it here. With its authentic analog design, incredible responsiveness and uncompromising control, Andromeda is the perfect combination of brute power and sheer attitude.
SPECIFICATIONS* :
Polyphony: 16-voice, 16-channel multitimbral
Synthesis Method: Real analog subtractive
Oscillators: 2 oscillators (with subs) per voice, 5 waveforms available (sine, triangle, square, up saw, down saw)
Filters: 32 total – 2-pole multimode resonating filter per voice, 4-pole lowpass resonating filter per voice
Program Memory: 256 preset and 128 user-defined
Mix Memory: 128 user-defined
Audio Outputs:

16 mono outputs, one for each of 16 voices (eight 1/4" TRS jacks)
Stereo main outputs (two 1/4" jacks)
2 mono aux outputs (two 1/4" jacks)
Stereo headphone output (1/4" TRS jack)

Audio Inputs: Two 1/4" jacks
External Audio Filter Inputs: Three 1/4" jacks – one each for Voices 1-16, Voice 15, and Voice 16
Pedal Jacks: Pedal/CV, Switch and Sustain – each with dedicated 1/4" jack
MIDI Connections: MIDI In, Out, Thru
Memory Card Slot: PCMCIA-format
Power: 100-230 VAC, 50/60 Hz 30W
Dimensions (WxHxD): 40.1" x 4.8" x 16.1" (1019mm x 122mm x 409mm)
Weight: 47lbs. (21 kg)
*Specifications may change without notice